WIDEX for Senso Vita SV-38, Senso P37/P38, Bravissimo BV-38 and Bravo B-32 audio d/i shoe Widex 6
DW6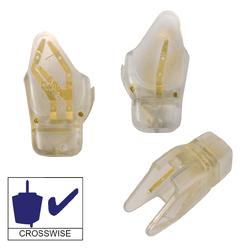 our price:
£20.26
inc VAT
(£16.88 ex VAT)
VAT Relief is available if you make a declaration in the Shopping Basket
Choose quantity
Order now for despatch on Mon 20th May.
Shoes supplied singly and priced each. Multiple views are shown to help with identification.
WIDEX Senso Vita SV-38, Senso P37/P38, Bravissimo BV-38 and Bravo B-32 audio i/p shoe Widex 6 - this shoe is a direct replacement for the Widex 3II & Widex 4.
ID Marks: Widex 6 (previously Widex 3II and Widex 3 and before that Logo Senso FM)
Contacts: 3 on one side, 1 on the other.
Colour: clear
Comment: This shoe is suitable for use with traditional and MLx/MLxS radio aids. Has small catch on one side to lock shoe in place.
(size 675 battery hearing aid). With a slide on/off direct input lead connection to reveal the Widex SCOLA fm receiver connections.
Manufacturer's part number: 295 DW6

Related Products
Widex Inteo IN-19, Aikia AK-19, Flash FL-19, Real RE-19, Mind440 M4-19, Mind330 M3-19, Mind220 M2-19, Senso Diva SD-19, Senso Vita SV-19, Bravissimo BV-19 & 18 audio i/p shoe Widex 5


Widex Inteo IN-19, Aikia AK-19, Flash FL-19, Real RE-19, Mind440 M4-19, Mind330 M3-19, Mind220 M2-19, Senso Diva SD-19, Senso Vita SV-19, Bravissimo BV-19 & 18 audio i/p shoe Widex 5

BUY
WIDEX Inteo IN-9, Aikia AK-9, Flash FL-9, Real RE-9, Mind440 M4-9, Mind330 M3-9, Mind220 M2-9, Senso Diva SD-9, Senso Vita SV-9, Bravissimo BV-9&8, Senso P7&8,Bravo B1&B2 audio i/p shoe Widex 7


WIDEX Inteo IN-9, Aikia AK-9, Flash FL-9, Real RE-9, Mind440 M4-9, Mind330 M3-9, Mind220 M2-9, Senso Diva SD-9, Senso Vita SV-9, Bravissimo BV-9&8, Senso P7&8,Bravo B1&B2 audio i/p shoe Widex 7 (replaces Widex 1)

BUY
WIDEX Logo Senso C series and Bravo B11/B12 and Logo L6-L12 audio i/p shoe Widex 8


WIDEX Logo Senso C series and Bravo B11/B12 and Logo L6-L12 audio i/p shoe Widex 8 (replaces Widex 2)

BUY
Share with Friends
Let a friend know about this product. (or send it to yourself)
Send To A Friend
RELATED PRODUCTS
Widex Inteo IN-19, Aikia AK-19, Flash FL-19, Real RE-19, Mind440 M4-19, Mind330 M3-19, Mind220 M2-19, Senso Diva SD-19, Senso Vita SV-19, Bravissimo BV-19 & 18 audio i/p shoe Widex 5

£20.26

WIDEX Inteo IN-9, Aikia AK-9, Flash FL-9, Real RE-9, Mind440 M4-9, Mind330 M3-9, Mind220 M2-9, Senso Diva SD-9, Senso Vita SV-9, Bravissimo BV-9&8, Senso P7&8,Bravo B1&B2 audio i/p shoe Widex 7 (replaces Widex 1)

£20.26
There is nothing in your basket
Connevans Limited

Bridge House
1 Nutfield Road
Merstham, Surrey, RH1 3EB
United Kingdom

Customer Service

01737 247571

Minicom

01737 644016

Fax

01737 223475

Email