Website use Frequently Asked Questions - FAQ

How do I update my details?

You can edit any of your user details, including your subscription to the combined Connevans Limited & DeafEquipment mailing list, by visiting the MyProfile page on the site. This will normally be displayed after you login and once you are logged in can be accessed by clicking on your name in the top left of the screen. This page can also be accessed by clicking this link.


I ordered from your website in 2004 but do not remember my username?

Ah, that is not surprising as we only introduced usernames in January 2005 so please register as a new user. We introduced usernames and passwords to allow us to offer you online order and parcel tracking.


I have forgotten my username (and or password!) what do I do?

Not a problem, choose login (top right of the page), choose 'Forgotten your password' and enter your email address - we will send a new password to the registered email address. Use this password to login, you may then change your password to something easier to remember - click on your username (top left of page) and change details - password, address etc. - as required.



ParcelForce tried to deliver while I was not home - they left a card, what should I do?



The card left by ParcelForce should give you information on your options -alternatively visit the ParcelForce website which has a specific area to

arrange a redelivery

.

How does the DeafEquipment website cope with older browsers?

The site degrades to what we call "unstyled" when using older browsers that don't support modern web standards and/or are buggy, which includes IE5.X for the Mac and Netscape 4 on anything. We advise later than IE 5.5+ or Firefox 1.04+, basically the newer the better.

How would I know that the site is working "unstyled"?

If you don't see a blue boxed Deaf Equipment store category menu on the left hand side of the page, your web browser is not currently supported. You will still be able to view the site and order products, but you won't get the best from using the site. To ensure a better experience, try upgrading to a newer Internet Explorer, Mozilla Firefox or Netscape on Windows, or Safari or Mozilla Firefox on the Apple Mac.

3D Secure - Verified by VISA - Mastercard SecureCode

learn more

More and more cards now require password identity checking, if this is your reported error please contact your card issuer to explain the process.

The following links also explain the new security system and allow you to register online.

If your card provider is not listed here they will still probably offer a 3D Secure facility -  please contact your card issuer.
NEWSLETTER
If you would like to be kept up to date with new things happening at Connevans, sign up here to receive our monthly plain text email newsletter.

SAFE & SECURE
Connevans is concerned about security and makes every effort to ensure our transaction process is safe and that your personal information is secure.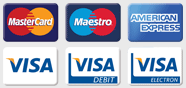 There is nothing in your basket
Connevans Limited

Bridge House
1 Nutfield Road
Merstham, Surrey, RH1 3EB
United Kingdom

Customer Service

01737 247571

Minicom

01737 644016

Fax

01737 223475

Email