19" rackmount hardware components

19" rack units are an industry standard racking system – you get no bonus points for understanding that the equipment panel mounting width is 19". The capacity or height is measured in 'U' units (1U is 1 3/4"). Therefore a 12U rack
mount unit has panel height of 21".
Width 600mm depth 430mm.
The wall mount 19" rack mount cupboards that we supply have removable side panels for ease of maintenance. Additionally the door can be removed, especially good for an intensive session of use.
NEWSLETTER
If you would like to be kept up to date with new things happening at Connevans, sign up here to receive our monthly plain text email newsletter.

SAFE & SECURE
Connevans is concerned about security and makes every effort to ensure our transaction process is safe and that your personal information is secure.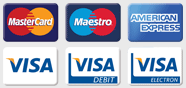 There is nothing in your basket
Connevans Limited

Bridge House
1 Nutfield Road
Merstham, Surrey, RH1 3EB
United Kingdom

Customer Service

01737 247571

Minicom

01737 644016

Fax

01737 223475

Email