An ACCA, Across the Counter Communication Aid, is designed to allow a hearing aid user with a T coil to listen to someone who is the other side of a glass partition or security screen; something that is often difficult enough for those with normal hearing!

The system usually consists of a microphone on the counter clerks side of the divide; this microphone is then fed into an amplifier which feeds a loop pad.

It is important to check a proposed installation position for suitability before installing a loop system; including a check for background magnetic noise. For example, traditional computer screens are a common source of magnetic noise, it may be necessary to move the screen or the loop or even both; alternatively a flat screen TFT monitor may be the solution.

Connevans are able to offer an installation service on the UK mainland, please check with Customer Services that installations can be carried out in your area. A typical cost is £236.00 per ACCA based on a minimum of 2 installations on the site.
NEWSLETTER
If you would like to be kept up to date with new things happening at Connevans, sign up here to receive our monthly plain text email newsletter.

SAFE & SECURE
Connevans is concerned about security and makes every effort to ensure our transaction process is safe and that your personal information is secure.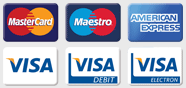 There is nothing in your basket
Connevans Limited

Bridge House
1 Nutfield Road
Merstham, Surrey, RH1 3EB
United Kingdom

Customer Service

01737 247571

Minicom

01737 644016

Fax

01737 223475

Email