Car charger for Doro mobile phones with a microUSB socket
40GSMCAR3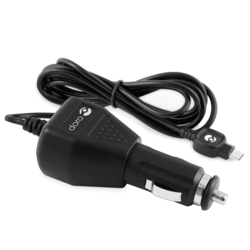 our price:
£15.00
inc VAT
(£12.50 ex VAT)
quantity pricing:
5 +

£13.50 each

(£11.25 each)
Out of Stock
Sorry, but this product is not in stock at the moment.
If you would like us to notify you when it is back in stock, please complete the form below and click submit.
To help us with our stock control, please could you let us know how many of this product you are interested in.
Please note that this is not a commitment from you to order
A microUSB car mains power charger for use with Doro GSM mobile phones.
This car charger is compatible with the following phones:
PhoneEasy 605
PhoneEasy 610
PhoneEasy 612
PhoneEasy 614
PhoneEasy 615
PhoneEasy 621
PhoneEasy 680
PhoneEasy 682
PhoneEasy 510
PhoneEasy 615
PhoneEasy 715
PhoneEasy 520X
Liberto 810
Secure 580

Also compatible with the Amplicom PowerTel M7000.

Related Products
Charging cradle for Doro GSM mobile phones


for use with the PhoneEasy 338 and 345. Also compatible with PhoneEasy 342 and HandlePlus 334.

BUY
Charging cradle for Doro 612 GSM mobile phone


for use with the PhoneEasy 612.

BUY
Charging cradle for Doro 615 GSM mobile phone


for use with the PhoneEasy 615. Also compatible with PhoneEasy 680 & 614

BUY
UK mains power supply for Doro GSM mobile phones


for use with the PhoneEasy 338, 345 and 410. Also compatible with 342 and HandlePlus 334.

BUY
UK mains power supply for Doro mobile phones with a microUSB socket


for use with the PhoneEasy 520X, 610, 612, 615, 621 & 715, Liberto 810, Secure 580 and other microUSB-compatible phones.

BUY
Car charger for Doro GSM mobile phones


for use with the PhoneEasy 338, 345 and 410. Also compatible with 342 and HandlePlus 334.

BUY
Carry case for Doro 410 GSM mobile phone


for use with the PhoneEasy 410 (only)

£18.00

£8.82

(£7.35 ex VAT)

BUY
Carry case for Doro 610 & 612 GSM mobile phone


for use with the PhoneEasy 610 & 612

BUY
Leather Belt case for CL8200-CL8400 & PowerTel GSM bar phones


for use with the Geemarc CL8200-CL8400. Also compatible with the Amplicom PowerTel M4000, M5000, M5010 & M6000

£16.00

£5.40

(£4.50 ex VAT)

BUY
Protective Wallet Cover for Doro Liberto 810


Keep your Doro Liberto 810 mobile phone well protected with this stylish and practical wallet with magnetic clasp. Felt-lined interior and three handy credit card slots.

BUY
Flip Cover for Doro Liberto 810


Protect the display of your Doro Liberto 810 mobile phone with a slim, felt-lined flip cover that is both practical and stylish.

BUY
Protective Case for Doro Liberto 810


This non-slip case protects the back of your new Doro Liberto 810 and feels great in your hand. Comes with a transparent screen protector to shield the display against accidental scratches.

BUY
Back Cover for Doro Liberto 810


Personalise the back of your new Doro Liberto 810 mobile phone with a stylish replacement back/ battery cover.

BUY
Spare/Replacement battery for Doro GSM mobile phones


for use with the PhoneEasy 338 and 345. Also compatible with PhoneEasy 342 and HandlePlus 334.

BUY
Spare/Replacement battery for Doro 410, 610 & 612 GSM mobile phone


for use with the PhoneEasy 410, 610 and 612

BUY
Spare/Replacement battery for Doro 510, 515 & 715 GSM mobile phone


for use with the Doro 510, 515 & 715 (only)

BUY
Spare/Replacement battery for Doro 615 GSM mobile phone


for use with the PhoneEasy 615 (only)

BUY
Spare/Replacement battery for Geemarc CL8400 GSM mobile phones


For use with the CL8400

BUY
Spare/Replacement battery for Amplicomms GSM mobile phones


For use with the Powertel M4000, M5000, M5010 & M6000 (NOT M7000)

BUY
Geemarc Shake Me App mobile phone alerter


a unique little alerter that will flash/ring/vibrate to alert you to your mobile phone

BUY
Charger for Portable devices with micro-USB connection


UK Micro USB Charger

BUY
International
Local Currency Guide
Language
Share with Friends
Let a friend know about this product. (or send it to yourself)
Send To A Friend
There is nothing in your basket
Connevans Limited

Bridge House
1 Nutfield Road
Merstham, Surrey, RH1 3EB
United Kingdom

Customer Service

01737 247571

Minicom

01737 644016

Fax

01737 223475

Email