Ex demonstration Wellcare Tinnitus Sound Relaxer
EX14WELLC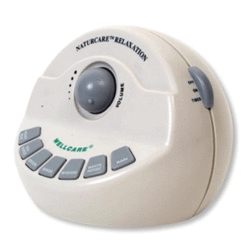 This is an ex-demonstration product has been tested/used but is in good condition.
At this price an absolute bargain!
our price:
£15.01
inc VAT
(£12.51 ex VAT)
VAT Relief is available if you make a declaration in the Shopping Basket
Choose quantity
Order now for dispatch today.
This value-for-money product can help relieve the symptoms of tinnitus through relaxation or distraction. It acts as a stress reliever, helping you achieve a restful night's sleep. As with other tinnitus sound relaxers, the Wellcare is also used by some to create a soothing background ambience for restless babies.

Features:

Choice of 7 sounds: heartbeat, sea waves, running stream, birdsong, woodland glade, falling raindrops or simple white noise

Volume control and separate on/off switch

30 minute sleep timer

Battery powered - 4 x AA batteries (supplied)

An optional UK or EU mains power supply can be purchased separately for use with this product (see below)



Dimensions:
 14 x 11 x 13 cm
Weight:
 0.48Kg Requires 4 x AA batteries (supplied)
An optional UK or EU mains power supply can be purchased separately for use with this product (see below)
The following additional information is available for this product

Related Products
Ex demonstration Wi-Safe2 Thermoptek smoke alarm head, W2-WST-630 with 10 year life battery


The Wi-Safe2 WST-630 Thermoptek smoke alarm head has been designed to give the earliest possible warning of fire via a network of wireless interlinked smoke alarms.

BUY
Ex demonstration stainless steel and black leather Vibralite 8


Men's 8-alarm vibrating watch with stainless steel case and black leather strap

BUY
Ex demonstration Vibralite 3 watch with auto reload countdown and black strap


Vibrating alarm watch with auto reload countdown and leather strap which is black with a 'silver' central band.

BUY
Ex demonstration Music-Link-D 50/50 stereo - earphone/silhouette earhook


especially designed for use with one hearing aid and an earphone for the other ear.

BUY
Ex demonstration Sonic Boom 12v dc vibrator


spare/replacement 12v dc Vibrator pad for use with Sonic Boom alarm clocks

BUY
Ex demonstration AB Zinc-Air Battery Pak for Naida CI - CHESTNUT


Zinc-Air battery pack for AB Naida CI - for use with standard cochlear implant 675 zinc air disposable batteries

BUY
Ex demonstration Geemarc AmpliDect 400 cordless telephone with Bluetooth


amplified digital cordless phone with Bluetooth

BUY
Ex demonstration Doro PhoneEasy 312cs big button telephone


The Doro PhoneEasy 312cs is a user friendly corded telephone featuring big buttons and a large display screen with caller identity.

BUY
Ex demonstration Libra+ D936 & D917 flashing doorbell and telephone ringer kit


a good portable wirefree ring indicator solution - kit includes wirefree chime, telephone ringer & adaptor (no push included)

BUY
Ex demonstration CM-BT2 Bluetooth Neckloop


an easy to use Bluetooth device for hearing aid users who have 'T' programme. It can also be used with headphones or earphones (not supplied) and is suitable for A2DP music streaming.

BUY
Ex demonstration Amplicomms PowerTel 49 Amplified Big Button Telephone


an amplified corded telephone with illuminated big buttons and tone and boost settings. This is a loud and excellent value-for-money phone

BUY
Ex demonstration Doro Magna 2005 amplified DECT telephone


a stylish and modern cordless phone with lots of really nice features such as the ability to make speakerphone calls direct from the base station

BUY
Ex demonstration Doro Magna 2005 amplified DECT telephone extra handset


an extra cordless handset for the Doro Magna 2005 amplified cordless telephone

BUY
Ex demonstation Oticon ConnectLine TV adaptor 2.0


a wireless connection between your Streamer/Ponto Streamer/Streamer Pro and the TV - great for use at home, giving you high quality TV sound directly into your hearing instruments

BUY
Ex demonstration Oticon Streamer Pro 1.3, TV Adaptor 2.0 & Phone Adaptor 2.0 BUNDLE (requires linking) - WHITE


Bundle 5 Requires Linking: a great value bundle including an Oticon Hearing Aid Streamer Pro 1.3 (requires linking) and both a TV adaptor 2.0 & Phone adaptor 2.0 for use in a ConnectLine system - save over £30!!

BUY
Ex demonstration Amplicomms TV Listening Headphones HS 100LR


Comfortable over the ear stereo TV headphones with powerful and dynamic sound quality, separate volume controls on the right and left and 1.2m extendable cable.

BUY
Ex demonstration LPS-6 Bluetooth Neckloop for hearing aid users


inductive Bluetooth neckloop for listening to phones and music with a hearing aid on T

BUY
Ex demonstration Infralight SWING IR Neckloop System with TOSlink audio input


InfraLight SWING wireless TV listener with neck loop and 3.5mm socket - now with TOSlink port

BUY
Ex demonstration Time Flash analogue alarm clock


A particularly good choice for deaf or hard of hearing people who prefer a conventional clock face but with a bright strobe and the option of adding a vibrator.

BUY
Ex demonstration Amplicomms Bluetooth Listener Neckloop for hearing aid users BTH 1410-NL


BTH 1410-NL lightweight, wireless listener with built-in microphone, compatible with Bluetooth or NFC-enabled phones - with inductive neckloop for use by hearing aid users with a loop program

BUY
Ex demonstration Amplicomms TCL 210 Travel vibrating alarm clock


a neat portable vibrating alarm clock with bright visual alert and some nice additional features

BUY
Ex demonstration 4-Way battery charger with batteries


4-way uk battery charger with 4 aa batteries

BUY
Ex demonstration Cochlear Baha Unilateral Softband - CHAMPAGNE


Softband for one Baha

BUY
Ex demonstration Geemarc CL7400 foldable wireless Headphones


hear the television again with the CL7400 wireless tv listener

BUY
Ex demonstration Protective book case for Doro Liberto 820 smartphone


Keep your Doro Liberto 820 smartphone well protected with this stylish and practical wallet with clasp.

BUY
Ex demonstration Amplicomms TV 2510-NL Digital TV Listener with neck loop


This TV listener has a neckloop receiver for hearing aid users and a built-in microphone for listening to conversation with family and friends. Highly Recommended

BUY
Ex demonstration Amplicomms TV 2500 Digital amplified TV Listener


This TV listener has an ear-worn receiver with a built-in microphone for listening to conversation with family and friends. Highly Recommended - WITH DIGITAL OPTICAL INPUT (Toslink)

BUY
Ex demonstration Plantronics M22 Vista modular base adaptor


Vista M22 Base Adaptor from Plantronics - an industry standard product.

BUY
Ex demonstration Amplicomms PowerTel M9000 smartphone


A very loud Android smartphone featuring internet access, a large touch screen and the option to switch to the Amplicomms software developed for simplicity.

BUY
Ex demonstration Geemarc PhotoPHONE 100


amplified and 'T' setting compatible this photo ID telephone has 8 large picture memory buttons

BUY
Ex demonstration Telephone Inductive Coupler/Listening Aid


PL 10 Telephone Inductive Coupler/Listening Aid for use with conventional corded telephones.

BUY
Ex demonstration Comfort Duett with neckloop


The Comfort Duett is a small, user friendly personal listener, supplied with a neck loop for use with hearing aids on the "T" or "loop" programme.

BUY
Ex demonstration Sound Oasis White Noise Tinnitus Relaxer


The S-100 White Noise Machine from Sound Oasis is neat, portable and offers 10 white noise sounds to help ease the effects of Tinnitus.

BUY
Ex demonstration WAP-5 waistband amplifier with electret microphone and iPod line input


WAP5 Waistband amplifier (electret microphone), consisting of 1 headband microphone, 1 active speaker, 1 plug-in charger, but supplied without batteries/rechargeable batteries

BUY
Ex demonstration Digital Personal Waistband Voice Amplifier WAP-7D


A simple product with good sound quality to help reduce voice strain and improve intelligibility when talking to a group although it is not a replacement for a soundfield system.

BUY
Ex demonstration Universal Hi-Fi speaker 16W MAX, 8 Ohm


Universal Hi-Fi speaker with inverse surround - 16W MAX, 8W RMS, 8 Ohm

BUY
Ex-demonstration Amplicomms Ring Flash 100 ring indicator


Amplicom Ring Flash 100 ring indicator - excellent value for money!

BUY
Ex demonstration Protective Wallet Cover for Doro Liberto 810


Keep your Doro Liberto 810 mobile phone well protected with this stylish and practical wallet with magnetic clasp. Felt-lined interior and three handy credit card slots.

BUY
Ex demonstration Flip Cover for Doro Liberto 810


Protect the display of your Doro Liberto 810 mobile phone with a slim, felt-lined flip cover that is both practical and stylish.

BUY
Ex demonstration Geemarc CLA7


Geemarc CLA7 hands free neck loop for use with AmpliDect 250 or CL400/1400

BUY
Ex demonstration Zephyr drying box


a very effective drying box from the makers of the Dry & Store - removes damaging moisture accumulation, drys earwax and remove odours

BUY
Ex demonstration White Greenbrook digital bellpush


Spare/replacement Kingshield Greenbrook digital doorbell push White, (only) DW060AN-C

BUY
There is nothing in your basket
Connevans Limited

Bridge House
1 Nutfield Road
Merstham, Surrey, RH1 3EB
United Kingdom

Customer Service

01737 247571

Minicom

01737 644016

Fax

01737 223475

Email