LA60 UK Loop Amplifier
91SLA60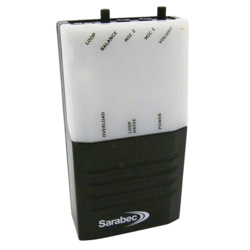 our price:
£52.80
inc VAT
(£44.00 ex VAT)
quantity pricing:
10 - 19

£48.60 each

(£40.50 each)

20 +

£40.50 each

(£33.75 each)
VAT Relief is available if you make a declaration in the Shopping Basket
Choose quantity
Order now for next working day dispatch.
Features & benefits:
POWER:- This light will be on constantly while power is being supplied to the system.
LOOP DRIVE:- This light shows that a signal is being passed from the amplifier unit to a loop and that the loop is continuous.
OVERLOAD:- If the red light is illuminated constantly, adjust the volume control until the red light is just flickering giving the maximum undistorted output.
VOLUME:- This controls the volume level for the user.
BALANCE:- This control balances the total level of the output signal between the two inputs.
The LA60 Loop Amplifier provides a practical solution for hearing aid users to listen more easily to conversation or other audio sources via the "T" or "MT" facility of their aid.

The amplifier unit picks up sound via a microphone (not included) or direct connection lead and sends the signal to a loop (not included) placed in the listening area which transmits the sound inductively, "magnetic sound waves", to the hearing aid.
This system is ideal if you are looking for a way to connect directly into your television either by scart, phone or headphone sockets.
Please note that the LA60 is not powerful enough to power a whole room loop. 

If you choose this system you will receive:
Please note that this price is for the amplifier only and accessories may need to be purchased.
Sarabec product code: 136-100
Power Supply:
• 180V-265V AC 50/60 Hz 10 VA

Controls:
• Rotary VOLUME control to vary the output level.
• Rotary BALANCE control to vary the Input level.

Input connections:
• 2 microphone inputs MIC1/MIC2. 3.5mm mono jack plug. DC powered for electret microphones.
• Direct line input. 3.5mm mono jack plug For direct connection to a TV sound output or other audio source via SCART or other suitable socket.

Output connections:
• Push grip connectors for loop cable or loop pad
(Labelled: Loop). Loop resistance between 1.0 and 1.5
Ohms will give full output.

Loop output:
1.3A RMS, 1.82A peak output @ 100-5KHz. Sufficient to
meet BS6083 pt4 (IEC118-4) in a Loop using 24/0.2
0.75 mm² cable 0.03 Ω/m

Indicators:
• Green Light Emitting Diode (LED) for Power On indication.
• Green Light Emitting Diode for Loop Drive indication
• Red Light Emitting Diode for Overload Condition indication

Product conforms to the provisions of the following
European Union Directives:
• 73/23 Low Voltage Directive
• 89/336 & 92/31 Electro Magnetic Compatibility Directives         

Related Products
There is nothing in your basket
Connevans Limited

Bridge House
1 Nutfield Road
Merstham, Surrey, RH1 3EB
United Kingdom

Customer Service

01737 247571

Minicom

01737 644016

Fax

01737 223475

Email