Package with inspiro transmitter and two iSense Micro receivers
3PQISENSE1
A shipping discount of £9.54 will be applied when this product is purchased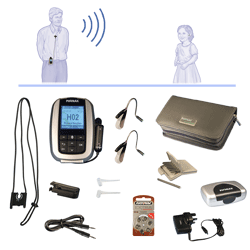 our price:
£1,464.00
inc VAT
(£1,220.00 ex VAT)
VAT Relief is available if you make a declaration in the Shopping Basket
Choose quantity and options
Please allow around a working week for despatch of this product
Phonak inspiro transmitter with iLapel microphone and extended programming and two iSense Micro receivers.
Including: 
inspiro transmitter set with extended level programming - comprising inspiro, iLapel microphone, case, 3.5mm stereo aux i/p lead, belt clip & charger
iSense receiver  (qty 2) – comprising iSense Micro receiver and retention lock, 6pk of 312 batteries & pack of 8 wax guards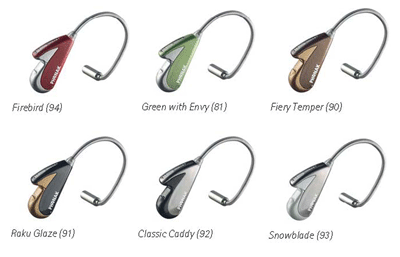 Bespoke on-site user set up and training visit available.
All new Radio Aids systems are supplied with full instructions and support cards and are easy to set up and use. Telephone and email support is always available free of charge. However, we also offer a bespoke on-site set up and training visit for individual systems where we will tailor the session to the specific needs of the user. Our friendly and approachable trainer will spend as long as is required to get the system working in your specific environment and to ensure that you are happy and confident about all the different ways the equipment can work for you.
We would strongly recommend this service for those in employment situations where the radio aid needs to interact with existing equipment.
iSense Micro features:

? Dynamic FM
? Ergonomic micro-style design
? Flexible, left/right compatible wearing concept for comfortable and secure use
? Small, flexible receiver attached to a robust housing, available in various colours
? 312 battery
? A volume control on the inspiro allows adjustment of the iSense Micro audio volume remotely
? On/off function integrated in battery door
? Automatic frequency Synchronisation (AFC) with WallPilot
? Direct frequency synchronization (DFS)
? Fully programmable with FM SuccessWare 4.2 or higher
? Compatible with inspiro and other FM transmitters
Operating time in active mode until the battery is empty and needs replacing: approx. 40-50hours
Battery type: 312 brown
Operating range inside a building: approx. 50 feet (15m)
Operating range outside: approx. 130-170 feet (40-50m)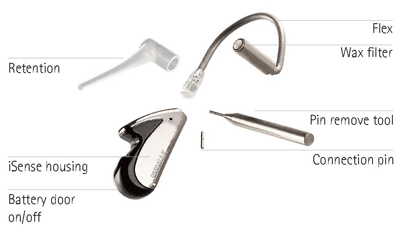 Manufacturer's part numbers:
052-3135-87194 (Firebird)
052-3135-87181 (Green with Envy)
052-3135-87191 (Racu Glaze)
052-3135-87192 (Classic Caddy)
052-3135-87190 (Firey Temper)
052-3135-87193 (Snowblade)

The iSense Micro receiver set comprises of an iSense Micro with retention lock, small storage case, pack of 8 wax guards, presentation case, pack of six Rayovac 312 size batteries and instruction leaflet.

Related Products
International
Local Currency Guide
Language
New!

UPS Access Point™ is the new local convenient collection service to fit your busy lifestyle & budget. Read More ...
Share with Friends
Let a friend know about this product. (or send it to yourself)
Send To A Friend
ASSOCIATED ITEMS
Phonak iSense Micro

£450.00

BUY

Phonak iSense Micro dynamic fm earworn receiver - replaces Phonak EduLink

£450.00

Pack of ten iSense Micro retention locks

£8.28
There is nothing in your basket
Connevans Limited

Bridge House
1 Nutfield Road
Merstham, Surrey, RH1 3EB
United Kingdom

Customer Service

01737 247571

Minicom

01737 644016

Fax

01737 223475

Email