LED Safety Arm Band with 4 led's
MXL119V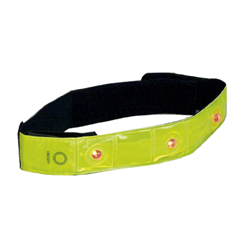 our price:
£3.62
inc VAT
(£3.02 ex VAT)
quantity pricing:
5 - 9

£3.43 each

(£2.86 each)

10 +

£3.25 each

(£2.71 each)
Out of Stock
Sorry, but this product is not in stock at the moment.
If you would like us to notify you when it is back in stock, please complete the form below and click submit.
To help us with our stock control, please could you let us know how many of this product you are interested in.
Please note that this is not a commitment from you to order
Arm band with 4 super bright LEDs. The product features static and flashing mode and can be seen up to 300m.
Uses 1 X CR2032 battery - not supplied.
Electrovision product code: L119V


Related Products
Share with Friends
Let a friend know about this product. (or send it to yourself)
Send To A Friend
RELATED PRODUCTS
LED safety light

£2.35

BUY

a compact warning torch with steady or flashing LEDs

£2.35

This high performance hand held metal detector is designed to meet the exacting requirements of the security industry

£29.66

typical uses include body search for offensive weapons.

£19.32
There is nothing in your basket
Connevans Limited

Bridge House
1 Nutfield Road
Merstham, Surrey, RH1 3EB
United Kingdom

Customer Service

01737 247571

Minicom

01737 644016

Fax

01737 223475

Email

Website