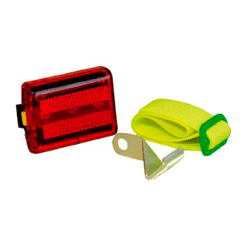 our price:
£2.35
inc VAT
(£1.96 ex VAT)
quantity pricing:
20 - 99

£1.97 each

(£1.64 each)

100 +

£1.58 each

(£1.32 each)
Out of Stock
Sorry, but this product is not in stock at the moment.
If you would like us to notify you when it is back in stock, please complete the form below and click submit.
To help us with our stock control, please could you let us know how many of this product you are interested in.
Please note that this is not a commitment from you to order
A compact warning light that offers a steady or flashing duel LED display.
Supplied with mounting bracket and arm strap. Ideal for bicycle back light, walking or jogging, horse riding etc.
Features: 
duel LED display
static or flashing
colour: red
visibility of up to 800m
compact and lightweight
integral belt clip

supplied with arm strap and mounting bracket
Uses 2 x AA batteries (not supplied).
Colour: red Battery: 2 x AA (not supplied) 
Electrovision product code: L119B


Related Products
There is nothing in your basket
Connevans Limited

Bridge House
1 Nutfield Road
Merstham, Surrey, RH1 3EB
United Kingdom

Customer Service

01737 247571

Minicom

01737 644016

Fax

01737 223475

Email