Rectangular 7.5" x 6.2" magnifying glass with lamp
MX700018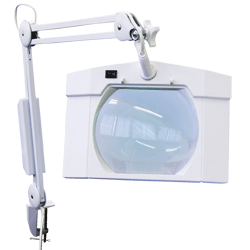 £63.00
(save £9.00)
our price:
£54.00
inc VAT
(£45.00 ex VAT)
quantity pricing:
1 +

£54.00 each

(£45.00 each)
Choose quantity
Order now for despatch today.
Fitted with 2 x 9W PL energy saving bulbs which are located at the edges of the magnifier in order to increase the light intensity (60W) . The magnifier glass is made from a scratch resistant glass (+3 dioptres). Separate table clamp for use on different supports. Flexible but very stable 32" adjustable reach arm. On/Off switch on the top.
In the opinion of our testing panel, the large magnifying glass area and bright and well positioned lights make this the best magnifying glass we've seen!
Extra large glass lens (190 x 160mm)
Magnification 1.5X
Low heat and excellent illumination
Lamp: 2 x PL (9W)
Lamp fitting: G23   230V ac, 50Hz with a UK 3 pin plug
 

Related Products
Magnifying glass - hand held 2.5" (63mm)


2.5" (63mm) hand held magnifying glass with x 2.25 magnification. Useful for looking at hearing aid controls.

BUY
Magnifying glass - hand held 3" (76mm)


3" (76mm) hand held magnifying glass with x 2.25 magnification. Useful for looking at hearing aid controls.

BUY
Magnifying glass - hand held 4" (102mm)


4" (102mm) hand held magnifying glass with x 2.25 magnification. Useful for looking at hearing aid controls.

BUY
Small magnifying glass - hand held - 6 x magnification


small, 50mm pocket magnifying glass with a chrome surround and 6 x magnification

BUY
Small handheld magnifier with light


a handy small Magnifying Glass with a single internal light for general use

BUY
Deluxe Comfort Grip Magnifier with 6 LED Lights


a deluxe handheld Magnifying Glass with 5 bright LED lights for reading, hobbies, crafts, maps, etc and 1 blue light for where light is subdued

BUY
Illuminated Magnifier


A handy illuminated magnifying glass for general reading, hobbies, craftwork, maps, etc.

Please register & login to view pricing

Pocket magnifier


small, pocket magnifying glass with a chrome surround and a chrome swivel cover

BUY
12 piece magnifier set with stand


12 piece magnifier set with stand

Please register & login to view pricing

Illuminated desk mounting magnifying glass


Illuminated desk mounting magnifying glass.

BUY
Desktop Illuminated Magnifier


Desktop Illuminated Magnifier

BUY
Desktop gooseneck Illuminated Magnifier


Desktop mains-powered gooseneck Illuminated Magnifier

BUY
Handsfree Craft Magnifier


A handsfree craft magnifier with adjustable neck cord, for close-up and intricate work; home use or travel.

Please register & login to view pricing

Sheet Magnifier


the Sheet Magnifier is ideal for reading large areas of books

BUY
Helping hand & magnifying glass


Helping hand magnifying glass 63mm (2.5") magnifying glass with x 2.5 magnification.

BUY
Helping Hands


Helping hands - a convenient and useful tool with 3x magnification

Please register & login to view pricing

Helping Hands with 60 mm Magnifier Lens, Soldering Iron Rest & 2 Articulated Arms


Helping hands tool featuring a round, 60 mm magnifier lens (2.5x magnification) in a steel frame with a weighted, heavy base for stability and 2 articulated arms with crocodile clips for gripping, plus adjustable soldering iron rest.

Please register & login to view pricing

Helping hand


Helping hands with large magnifier

Please register & login to view pricing

Illuminated Helping Hands with 90 mm Magnifier Lens, Soldering Iron Rest, 2 Articulated Arms and 2 LED lights


Helping hands tool with 90 mm magnifier lens (2 x magnification), led lights (2xaaa, not supplied), weighted cast iron base for stability and 2 articulated arms with crocodile clips for gripping.

Please register & login to view pricing

Mini Stand Magnifier


the Mini Stand Magnifier is ideal for reading, needlework or other detailed work

BUY
Pocket illuminated magnifier


Pocket illuminated magnifier

BUY
Giant folding magnifier


large, folding magnifier with 110mmØ glass lens, giving 2x magnification. Ideal for reading

BUY
Spare bulb for illuminated desk mounting magnifying glass


spare bulb for MAGDESK1

BUY
Spare lamp for rectangular illum. magnifier


spare bulb for MAGDESK2

BUY
Replacement lamp for MX700048 & MX700027 lluminated Magnifiers


Replacement lamp for MX700048 and MX700027

BUY
International
Share with Friends
Let a friend know about this product. (or send it to yourself)
Send To A Friend
ASSOCIATED ITEMS
There is nothing in your basket
Connevans Limited

Bridge House
1 Nutfield Road
Merstham, Surrey, RH1 3EB
United Kingdom

Customer Service

01737 247571

Minicom

01737 644016

Fax

01737 223475

Email

Website