Pack of 6 dry cap bags & capsules
MDRYCAP6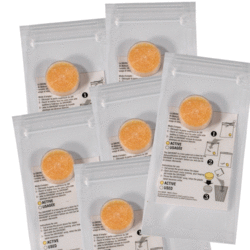 our price:
£9.00
inc VAT
(£7.50 ex VAT)
quantity pricing:
2 - 9

£7.80 each

(£6.50 each)

10 +

£6.41 each

(£5.34 each)
Out of Stock
Sorry, but this product is not in stock at the moment.
If you would like us to notify you when it is back in stock, please complete the form below and click submit.
To help us with our stock control, please could you let us know how many of this product you are interested in.
Please note that this is not a commitment from you to order
Pack of 6 dry cap capsules & bags. 
Size of pouch: 82 x 165mm. Size of tablet: 30 x 11mm
Tablets should last about 5 weeks.
In our opinion the Dry Cap Pouch is an ideal inexpensive disposable option but each bag is probably only suitable for one post aural aid and earmould or two in the ear aids as the pouch is fairly small 
Note - not for use as replacement capsules for the Dry Cap tub set - MDRYCAPSE2 (different size!)


Related Products
Ront dry cap tub set


Two long lasting silica tablets, one to use and one spare, with screw top tub which holds tablet, aids etc.

BUY
Ront dry cap bag & capsule


Simple disposable pouch with one dry cap enclosed. Good value but not suitable for carrying in pockets due to fairly sharp corners.

BUY
Phonak C&C Line Drying beaker


A compact plastic beaker with removable insert - for use with a drying capsule (not included)

BUY
Phonak C&C Line Drying Capsules CD5 (pack of 6)


pack of 6 drying capsules - for use with the Drying Beaker (sold separately)

BUY
Phonak C&C Line Drying bag


a velcro-sealed plastic drying bag - for use with drying capsules (sold separately)

BUY
Oto-fresh Cleansing & Drying Beaker


a plastic beaker with removable sieve/drainer for use with cleaning tablets or drying capsules (not included)

BUY
Oto-fresh Drying Capsules (pack of 6)


pack of 6 drying capsules - for use with the Oto-fresh Cleansing & Drying Beaker (sold separately)

BUY
Hearing aid Dry Caddy Kit


This easy to use, portable kit includes 1 Dry Caddy jar plus 6 Dry Caddy discs, providing a year of protection against moisture damage

BUY
Oto-fresh Drying Bag


a flexible sturdy plastic drying bag for use with Oto-fresh drying capsules (not included)

BUY
Amplicomms Hearing Aid Vacuum


a handy tool for sucking out condensation, dust and ear wax from in the hearing aid, earmould and attached tubing.

£59.99

£54.00

(£45.00 ex VAT)

BUY
Dry Dome electronic drying station


A stylish, compact drying station that uses gentle convection heat to remove damaging moisture from hearing instruments of all types

BUY
Phonak D-Dry hearing aid drying box


an electric drying and cleaning box for hearing aids and earmoulds - with UV-C light

BUY
Global II Dry & Store


More than just a very effective drying box, the Dry & Store also dries earwax, kills germs and deodorises.

£116.40

£104.76

(£87.30 ex VAT)

BUY
Zephyr drying box


a very effective drying box from the makers of the Dry & Store - removes damaging moisture accumulation, drys earwax and remove odours

£70.80

£59.40

(£49.50 ex VAT)

BUY
Dry-Brik II tablets for Dry & Store/Zephyr - Triple pack


replacement Dry-Brik II tablet for Dry & store or Zephyr - pack of 3

BUY
Amplicomms DB 110 plus Hearing Aid Dry Box


A compact budget drying box for hearing aids, keeping them dry from moisture and clean from bacteria

BUY
Replacement UV lamp for Dry & Store


Replacement UV lamp for Dry & Store

BUY
Replacement plug-in PSU for Dry & Store and Zephyr - 220V ac


available with either UK 13A square pin or 2 pin European plug

BUY
There is nothing in your basket
Connevans Limited

Bridge House
1 Nutfield Road
Merstham, Surrey, RH1 3EB
United Kingdom

Customer Service

01737 247571

Minicom

01737 644016

Fax

01737 223475

Email